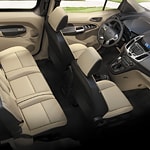 The customizable Ford Transit Connect remains a favorite among owners who desire a cargo van or a passenger wagon for the amount of interior space the vehicles provide. Whether owning a fleet or having a sizable family, the vehicles also come with a variety of convenient features.
The vehicles come standard with dual sliding doors. Fleet owners may load and unload the interior with room to spare. The doors are also convenient in the passenger wagon for entry and exit, as the built-in step is now lower. Regardless of whether the wagon accommodates six or seven passengers, all easily reach their seats.
Keep cell phones powered and ready by adding a wireless charging station. In this way, drivers and passengers need no longer worry about the hassle of having and using charging cables. By eliminating the cables, the front of the vehicle also becomes less cluttered. Visit our Chula Vista, CA Ford Chula Vista location, and take a Ford Transit Connect for a road test.